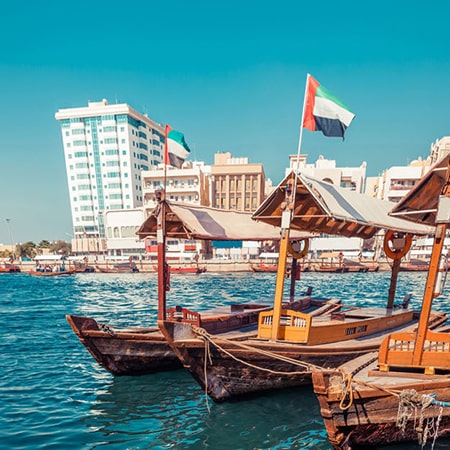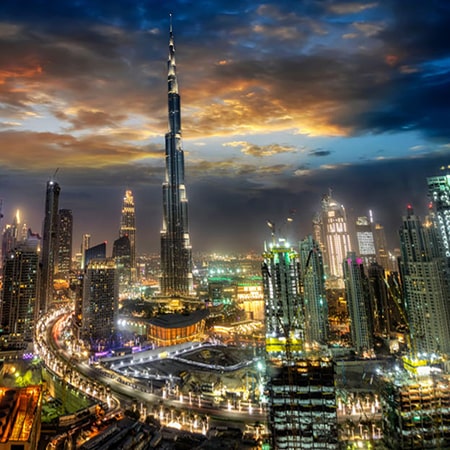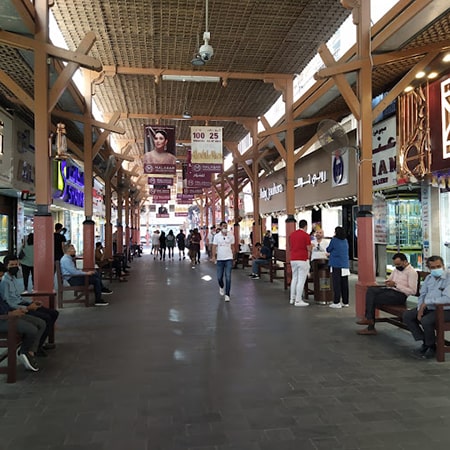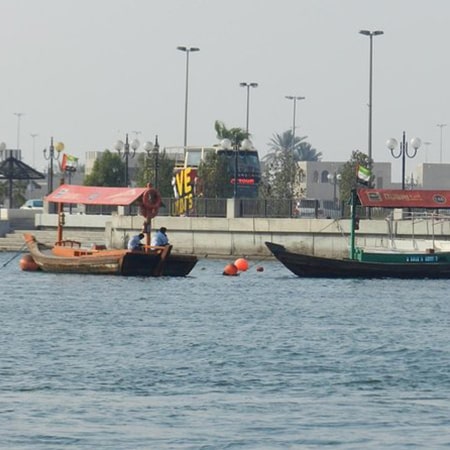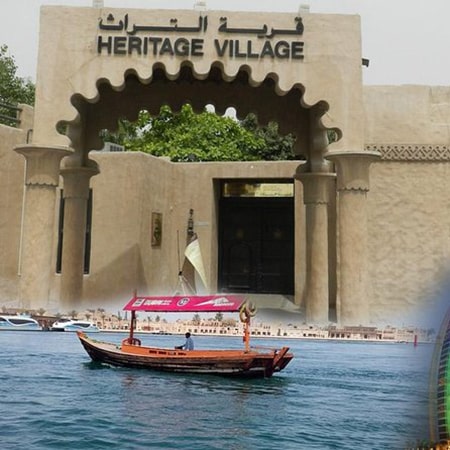 Dubai City Tour with Guide - Old and New Dubai sightseeing tour

5.0 Based on 100+ reviews
Lowest price guarantee
Reserve now & Pay later
Free cancellation
Overview
Embark on a half-day guided Dubai City tour where you will have a chance to visit both old and new Dubai landmarks.
During this tour, you will learn about modern Dubai while riding in an air-conditioned vehicle and seeing places like Dubai Marina, the Burj Al Arab, and the Burj Khalifa, the world's tallest building.
You can also learn about Dubai's history by going to Al Bastakiya, the Dubai Museum, the Gold and Spice Souks, and taking an abra (a water taxi) ride on Dubai Creek. Pickups and drops off at your hotel, the harbor, and a central location are all included.
Visit places like the Burj Khalifa and the Burj Al Arab that are well-known in Dubai. Visit the Dubai Museum and ride an "abra," a type of boat, across Dubai Creek. Learn about Dubai's past and how people there live. Transportation in air-conditioned vehicles, payment for museum entrance, and pick-up and drop-off at the hotel, port, and central area are all included in the price.
Rates Explained
Age Group

Adult

Age Limit

08-70

Capacity

Min: 1 Max: 15
Age Group

Child

Age Limit

3-7

Capacity

Min: 0 Max: 15
Age Group

Infant

Age Limit

0-2

Capacity

Min: 0 Max: 15
What's Included
Transportation on an air-conditioned vehicle
Professional guide English speaking
Pickup and drop-off at the hotel staying
Photo session outside Atlantis the Palm
Riding Abra's boat across the creek
Tour both old and modern Dubai landmarks
Drive and stop at Palm Island, the world's eighth wonder, to take some pictures.
A photoshoot in front of the Burj Al Arab Hotel in Dubai
Stop briefly at the beach in Jumeira.
What's Not Included
No Drinks and food included
Souvenir photos: You have to negotiate the price in the souks, and you should only check the price while you're there. When you buy in a hurry, chances are you lose.
Individual guest pickup: If the reservation is only for one person, the guest will be asked to go to a nearby hotel that serves as a common pick-up point. This hotel will be one of the hotels that are centrally situated. If a visitor wishes to be picked up from the hotel during their stay, they must pay a fee of USD 8 per person, which can be paid on the spot. This only applies to hotel guests who are staying in hotels that are situated in the city's central business district.
On the other hand, if there are multiple reservations from the same hotel, we will pick them up from the same hotel. Regarding this matter, the office will not recognize any claim or compensation.
Meeting And Pickup
If there are more than two travelers, we will provide a pick-up service from any hotel located within the emirate of Dubai. Please keep in mind that Dubai is a city in which many hotels are located close to one another; as a result, we will halt in a well-known location and lead you to the vehicle.
Our pickup area includes Deira, Bur Dubai, and Downtown, including the area around Burj Khalifa, all of Sheikh Zayed Road, Barsha, T-com, Media City, Dubai Marina, Palm Jumeirah, Jumeirah Beach Residence, and Jumeirah Lake Towers. Outside the city limits, pick-up sites and points for participants and single-person bookings:- People from Ghusais, Riu Deira, Nahada, Muhaishna, and other emirates should go to Ibis Al Rigga or Hyatt Place Al Rigga. People from Silicon Oasis, Discovery Garden, DIP, Jebel Ali, Studio City, J.village, Arabian raches, Dubai Land international city, and other places on the outskirts should go to the Marina Mall main door.
Important
There is no hotel pickup because there are no extra fees for booking with just one person. Instead, we suggest staying at a nearby hotel or the shared pickup location.
Our apologies, but because the tours are sold at budget, we can't pay for relocation or take claims.
What To Expect
After pickup from your Dubai hotel, travel by air-conditioned vehicle to your first landmark: Dubai Marina, where high-rise residences frame an artificial waterway.
View the palm-dotted Dubai Marina Walk, and admire the Jumeirah Beach Residence (JBR), where cloud-piercing residential towers gaze over the Arabian Gulf.
Continue to palm-shaped Palm Jumeirah Island and view the upscale boulevards of villas here before snapping photos of the sail-shaped Burj Al Arab hotel.
Call the Blue Mosque, modeled on Istanbul's Blue Mosque, and enjoy a guided interior tour (subject to prayer times and festival closures) to admire its Ottoman-inspired architecture.
Marvel at the Burj Khalifa, the planet's tallest building, and Dubai Mall, and pass landmarks, including the Dubai World Trade Center and a royal palace, on route to old Dubai.
Here, discover the wind towers and courtyards of Al Bastakiya, Dubai's oldest quarter, and chart the city's history at Dubai Museum. Take in the Heritage Village and Souk Al Kabeer, and ride an abra across Dubai Creek to Deira's souks.
Stroll through the historic Gold Souk and Spice Souk, where you might purchase some treats along the way (at your own expense).
You will then be returned to the pickup point.
Additional Info
Will receive a confirmation when booking
Pick up and drop off at almost 500 hotels in Dubai
On Fridays, the Dubai Museum is closed to the public.
On Fridays, access to the museum's interior is not available; however, you can view the forts from the exterior and for a photo stop.
The shops within the Spice and Gold Souk will be closed on Friday.
The transfers from hotels begin between 8:00 and 9:30 in the morning, approximately all days other than Fridays, the pickup begins in new Dubai at 8 AM, and it transfers passengers to old Dubai.
Due to their distance from the city boundary, Arabian ranches, Jebel Ali, Silicon Oasis, Dragon Mart area, Mirdif, Al Nahda, Muhaisnah, Ghusais, Mamzar, Naif, Sabka, and Al Ras do not qualify for pickup service.
It is against the law for tour operator buses to pick up guests from residential areas.
INDIVIDUAL GUEST PICKUP: If the reservation is for one person, the guest will have to go to one of the hotels in the middle of the city that serves as a shared pick-up point. Guests who want to be picked up from the hotel during their stay must pay USD 8 per person, which they can do on-site. This only applies to people staying in hotels in the city center. If you have made multiple appointments at the same hotel, we will pick you up from the same hotel. In this way, the office does not accept compensation or claims.
Baggage transfers are not included in the price of the tour. If baggage needs to be moved, extra fees will be charged.
Infant seat provided; charges apply
Access to wheelchairs is limited
Infants should sit on laps.
If the reservation is for one person, guests must call us at least 24 hours before the tour so we can tell them where to be picked up. You can't blame the agency if you don't know where you are or can't make it to the tour.
Tours are only given to tourists. Due to insurance rules, only UAE residents with a current residence visa can go on the trip.
Suited for most travelers
The maximum number of travelers who can participate in this tour is 100
Cancellation Policy
You should cancel your booking at least 24 hours before it starts to get a full refund.
You won't get your money back if you cancel less than 24 hours before the event starts.
Changes made less than 24 hours before the event's start time are not allowed.
The cut-off times for the experience are based on local time.
This experience needs a certain number of people to take part. If it is cancelled because there weren't enough people interested, you will be given the choice of a different date/experience or a full return.