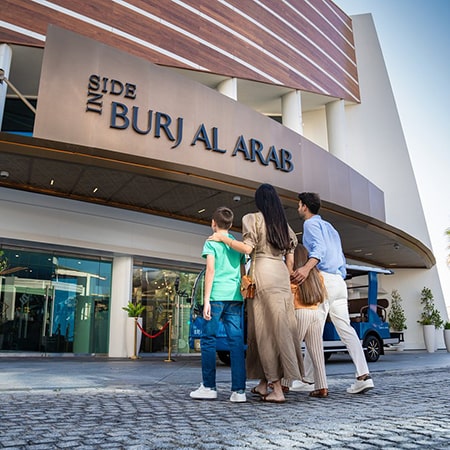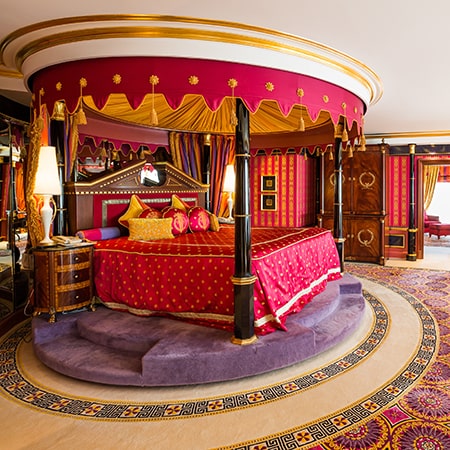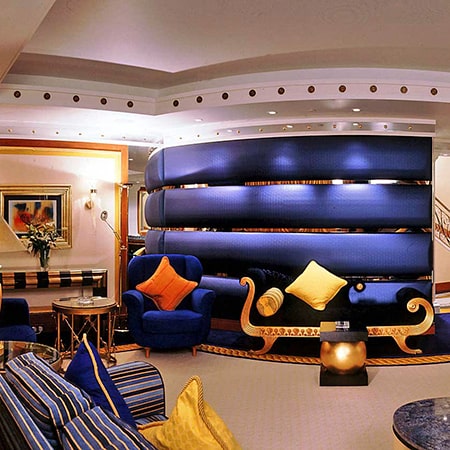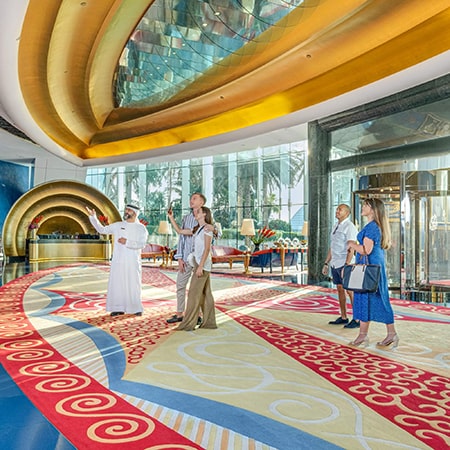 Inside Burj Al Arab Dubai Guided Experience

5.0 Based on 100+ reviews
From
134.55 usd
Per Adult
Lowest price guarantee
Reserve now & Pay later
Free cancellation
Overview
Unlike most tours, which only get their guests outside of the Burj Al Arab Hotel for brief photo ops, when you embark on this tour, you can enter the Burj Al Arab Hotel for a 90-minute exploration.
You will see the hotel's original architectural plans and the iconic atrium and royal suite in 3D through a carefully selected interactive tour.
Guests are greeted with complimentary juice, Arabic coffee, and dates. Several mementoes and a "Golden Cappuccino" are available as upgrades.
The trip includes visits to the hotel's atrium and royal room and views of the hotel's original building designs.
The trip includes visits to the hotel's atrium and royal room and views of the hotel's original building designs.
You can pay extra for a "Golden Cappuccino" or various unique gifts.
Rates Explained
You can select up to 14 travelers in total.
Age Group

Adult

Age Limit

13-90

Capacity

Min: 1 Max: 15
Age Group

Child

Age Limit

5-12

Capacity

Min: 0 Max: 15
What's Included
Experience a butler-guided tour of Burj Al Arab for 90 minutes.
Explore the famed Dubai hotel like never before and learn its hidden history.
Discover the secrets that have made the UAE's most famous building a global symbol for architectural progress.
Your experience will include a trip to the hotel's renowned atrium and the opulent Royal Suite. Suite digitally interactive, taking visitors back in time to view historic blueprints
Museum admission is free, with a welcome drink, Arabic coffee, and dates.
Tour with alternate itinerary possibilities
What's Not Included
Pick up and drop off not included
Meeting And Pickup
You will be picked up at Jumeirah Beach Hotel Jumeirah St - Umm Suqeim - Umm Suqeim 3 - Dubai - United Arab Emirates, and then you will be driven to Burj Al Arab.
What To Expect
We'll take you on a tour of the world-famous hotel and its breathtaking architecture as part of a one-of-a-kind immersive experience that will give UAE locals and visitors access to the property's most exclusive and previously off-limits areas.
Additional Info
You will receive a confirmation when booking
Accessible on wheelchair
There is nearby public transportation
Transportation on board, even persons in a wheelchair
The buggy that will take you to the Inside Burj Al Arab ticket lounge will be waiting for you 15 to 20 minutes after you arrive at the Jumeirah Beach Hotel.
The rate does not apply on a public holidays, including blackout days such as Christmas Day, Christmas Eve, New Year's Eve, Diwali, and Chinese New Year. Other holidays in this category include Easter, Valentine's Day, Iftar, EID, Christmas Day, and Christmas Eve.
In the case of online redemptions, a member of our customer service staff will contact you to verify whether or not the date you selected is accessible.
The tour and Champagne experience are only available to guests at least 21 years old; guests younger than 21 will be offered mocktails or non-alcoholic beverages instead.
The tour is a timed booking, as participants must show up at the exact time they chose when they booked it.
Suited for most travellers
The maximum number of travellers who can participate is 10
Cancellation Policy
There are no refunds or change options available for this experience. You will not receive a refund if you cancel or change your booking.