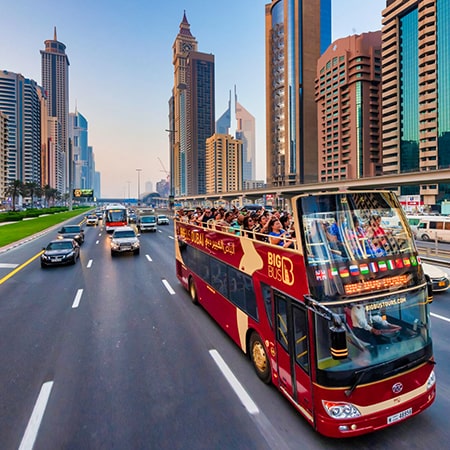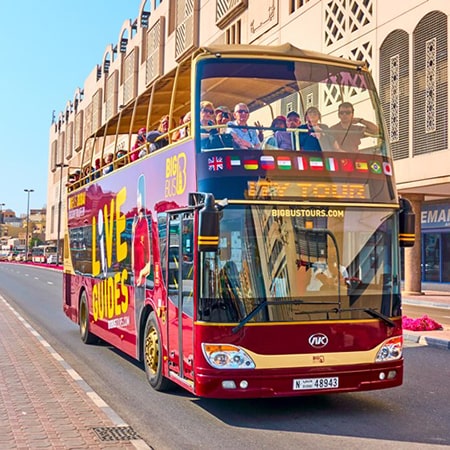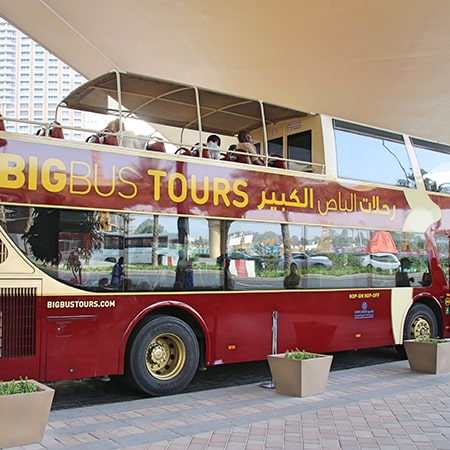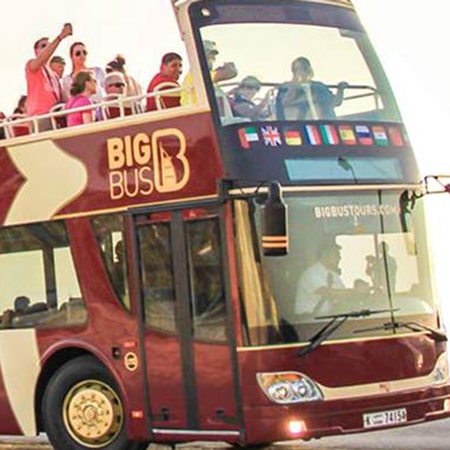 City Sightseeing Dubai Hop-On Hop-Off Bus Tour

5.0 Based on 100+ reviews
From
114.36 usd
Per Adult
Lowest price guarantee
Reserve now & Pay later
Free cancellation
Overview
Embark on a hop on and off of a City Sightseeing bus throughout the day to visit Dubai's most popular tourist destinations.
You can enjoy limitless sightseeing along multiple routes with your 1-, 2-, or 3-day pass, bringing you to several of Dubai's top destinations, such as Jumeirah Beach Park, Burj Al Arab, the Dubai Museum, Burj Khalifa, Sheikh Zayed Road, Madinat Jumeirah, the Gold Souk, and Dubai Creek. Your pass also gives you access to the Gold Souk and Dubai Creek.
Your hop-on hop-off bus pass comes with fun extras like a night trip, entry to the Global Village, and more.
Enjoy unlimited travel on various routes with your 1-, 2-, or 3-day pass by creating your personalized sightseeing itinerary and exploring Dubai at your speed.
Choose between a 1-, 2-, or 3-day pass.
Visit famous tourist destinations in Dubai, such as the Gold Souk, the Burj Al Arab, and the Jumeirah Beach Park.
When you upgrade to premium tickets, you'll get free extras like a dhow cruise and a visit to Queen Elizabeth 2.
Rates Explained
Age Group

Adult

Age Limit

16-99

Capacity

Min: 1 Max: 15
Age Group

Child

Age Limit

5-15

Capacity

Min: 0 Max: 9
What's Included
Standard tickets for 24, 48, or 72 hours only give you access to the Bus Tour.
Sunset and Night Tour
1 Day Premium Ticket includes the 1 Day HOHO and Dhow Cruise
2 Day Premium Ticket includes the 2-Day HOHO, Dhow Cruise, and The Lost Chambers Aquarium
3 Day Premium Ticket includes the 3-Day HOHO, Dhow Cruise, and The Lost Chambers Aquarium
3-Day Premium & Aquaventure includes the same as the 3-Day premium, plus the 1-Day Aquaventure
What's Not Included
Gratuities
Transportation to and from the hotel
No food and beverages included unless otherwise requested
Meeting And Pickup
Pickup from hotels and residences in any location can be arranged from Dubai.
What To Expect
A City Sightseeing hop-on hop-off trip on an open-top bus is a quick and easy way to learn about the modern city of Dubai and its rich history.
You can get on a double-decker City Sightseeing bus at any stop along the eight lines around the city.
As you cruise around Dubai, you can relax in one of the seats inside or outside on the open-air upper deck and take in the amazing views of the city's most famous sites.
You can choose a 1-, 2-, or 3-day normal or premium pass. You can stay on the bus for the whole loop of each route or get on and off at any stop that interests you. Please look at the Itinerary for a list of all the stops and other information about the trip.
You can make your schedule with the sights and activities you want to see and do.
You can also go at a pace that is easy for you. You can learn about the area you are going through by listening to the entertaining audio commentary given in several different languages.
Buses run often, and because their hours are long, you can travel around Dubai at night and see how the city's skyline is lit up.
Your ticket for the hop-on, hop-off tour also gives you access to things like a night walk, the Dubai Aquarium, the Lost Chambers, and the Global Village.
Depending on which option you choose, you may be able to add on a cruise on a traditional dhow, free admission to the Dubai Museum, a QE2 Heritage Tour, a tour around Palm Jumeirah, or a ride on the Flying Cup.
Additional Info
You will receive a confirmation when booking
Accessible on wheelchair
Route Red: The first bus leaves stop 1 at 9 a.m., and the last leaves at 5 p.m. Duration - 80 minutes. The time between each one is 30 minutes.
On the Blue Route, the first bus leaves stop 1 at 9 a.m., and the last bus leaves at 5 p.m. Duration - 130 minutes. Every sixty minutes. Some places let you leave early. For the most up-to-date information, ask around or look at the map in the photos area.
This tour takes mobile and paper vouchers, which can be redeemed anywhere along the route.
Both mobile and paper coupons can be used for this trip, and each voucher can be redeemed at any stop.
Stroller accessible
Close to a public transportation stop.
When you use your voucher, you can come and go as you please for up to a year from the trip date you choose when you check out.
The Sunset and Night Tour leaves Dubai Mall at 17:00, and the Full loop takes two hours. Please know you can't get on and off this trip whenever you want.
For the 2-Day Premium Ticket and the 3-Day Premium Ticket, kids ages 3 and 4 must buy a different admission ticket to get into the Lost Chambers and Aquaventure.
Suited for most travelers
Cancellation Policy
To receive a full refund, you should cancel your booking 24 hours before experience scheduled time.
We can't make any changes to your reservation if you tell us less than 24 hours before the planned start time of the experience.
The cut-off times depend on the local time of the experience.