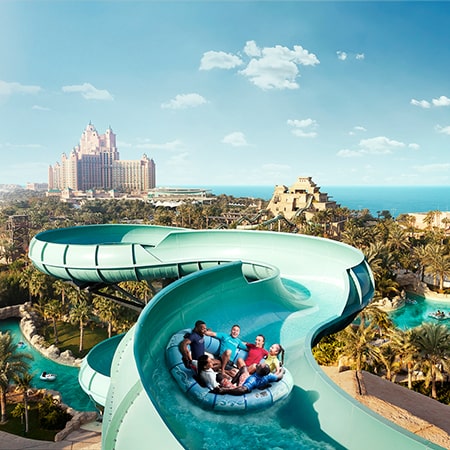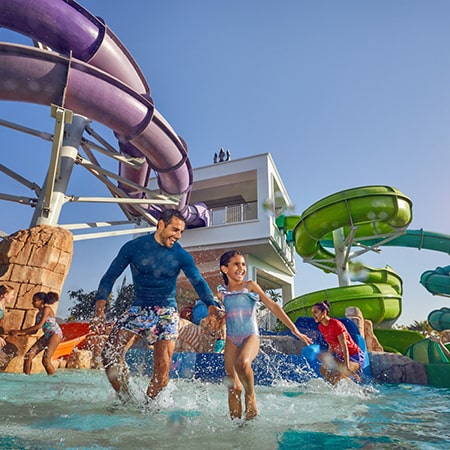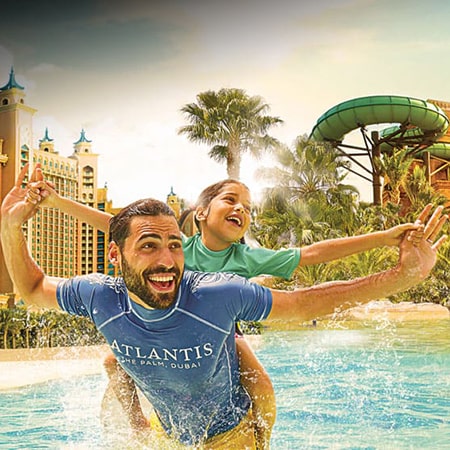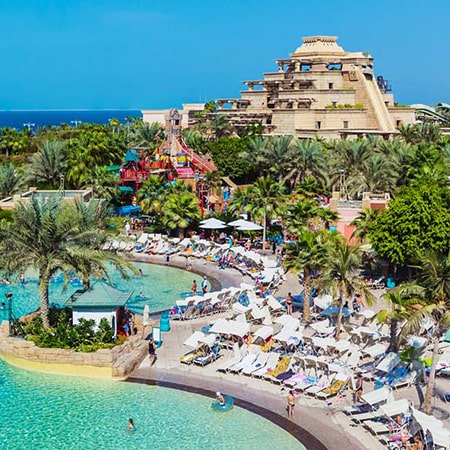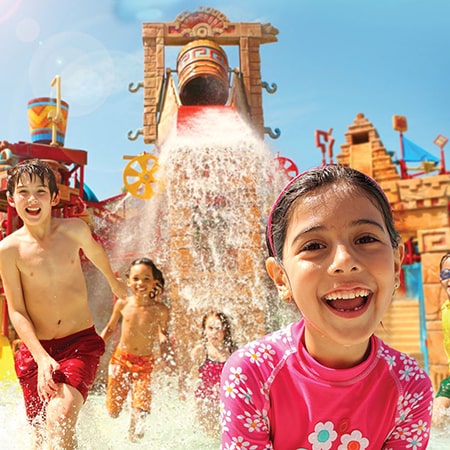 Atlantis Aquaventure & Lost Chambers Ticket (with options), Dubai

5.0 Based on 100+ reviews
Lowest price guarantee
Reserve now & Pay later
Free cancellation
Overview
Get an all-day ticket to the fun at Dubai's Aquaventure Waterpark. The Aquaventure Dubai is a world-class water park with thrilling attractions for guests.
You can take your time on the attractions, whether you want to race down the corkscrew chutes, ride through the shark tunnels, or relax on the lazy rivers while watching the kids play in the brand-new Splasher's Island section.
Based on the package you've selected, you'll visit The Lost Chambers, an Atlantis-themed aquarium with 65,000 marine creatures spread across 21 displays.
Select from a range of choices for an all-day entry ticket to Aquaventure Waterpark and The Lost Chambers Aquarium
Discover why TripAdvisor named it the "Best Waterpark in the Middle East 2015."
Thrill seekers can take on the treacherous descent of Poseidon's Revenge, while relaxation seekers can glide along the river.
Relax on the beach while kids blast at the Splasher's Island water park.
Rates Explained
Age Group

Adult

Age Limit

8-99

Capacity

Min: 1 Max: 9
Age Group

Child

Age Limit

3-7

Capacity

Min: 0 Max: 9
What's Included
Life jackets for the children inside the waterpark
Access to Aqua venture Waterpark
If you have combo ticket access to Aquarium
Shark and Aquarium Feeding talks
Up machine Lost Chambers
What's Not Included
Up machine Lost Chambers
Food and drinks
Photos
Atlantean Flyer (Zip Line Access)
Aqua Xpress (Fast pass)/li>
Tour at Lost Chambers Aquarium (behind the scenes)
Meeting And Pickup
You will be picked up at Atlantis the Palm United Arab Emirates
What To Expect
Get yourself to the Atlantis the Palm in Jumeirah and show your ticket to be allowed into the Aquaventure Waterpark.
Step into this exciting waterpark in Dubai and use the activities at your own pace and for as long as you like until the park closes for the day.
After that, go straight to the tunnels under the Tower of Neptune. You can get a rush by going down the scary 90-foot (27.5-meter) Leap of Faith into the shark lagoon, and you can get a rush through the chutes in the Tower of Poseidon.
Ride the serpentine Aquaconda, dare to jump off the Zoomerango and the multi-track Slitherine, and float through the shark-filled Shark Tunnel in a boat.
You shouldn't miss the chance to ride Poseidon's Revenge if you're still looking for a thrill. This ride has a trapdoor that opens under your feet and sends you hurtling downhill at 75 feet (22.8 meters) per second before throwing you into a double loop.
Dive into the other included water rides, float down the lazy rivers, and let the kids run wild on Splasher's Island, which has 7 new waterslides that range from body slides to tube rides.
Splasher's Island also has a slow river, a wave pool, and a place for kids to play. The new dry play structure looks like a dhow boat and can be found both on Splasher's Island and Splasher's Island.
If you need a break, you can relax on the sandy beach or get something to eat at one of the places (at your own expense).
If you want a little more luxury at the beach, you could rent a VIP beach cabana at your own cost. When you leave the park, your trip is over.
Additional Info
You will receive a confirmation when booking
A big seating area for families with young children that is first-come, first-served. (The Splashers Island is restricted to users under 1.2 meters in height).
You can use our powerful wave model "Surf's Up" as much as you want to improve your surfing skills.
Children older than 7 or taller than 1.2 meters must buy an adult ticket.
You must print a copy of the coupon and bring it to the Ticketing Counter in person.
Transportation is not included.
An adult must always accompany kids. The best way to get to Atlantis Aquaventure is for people to plan their transportation.
Not accessible in a wheelchair.
Accessible with a stroller
Located close to public transportation
Children are required to sit on their parent's laps
Not suitable for travelers with back problems
Not suited for travelers who are pregnant
Not suited for travelers with a history of heart disease or other significant medical conditions .
Please be aware that bringing any food or drink into Aquaventure is prohibited under any circumstances. At the entrance to the park, you will be asked to throw away any food and beverages you are bringing with you at that time.
When booking, if any members of your group have particular dietary needs, you are kindly requested to bring these to our attention.
Proper swimwear is necessary to use the facilities within Aquaventure and the beach.
You cannot enter the water while wearing thongs, transparent bathing suits, underwear, denim, or loose clothing such as an abaya, dish dash, or something similar. Scarves for the head, but only if they are fastened correctly and do not contain any materials that move loosely.
Suited for most travelers
The Aquaventure Waterpark is open from 9:30 a.m. until sundown, and you can use this ticket at any time during those hours, no matter when your trip starts.
At most, 999 people can participate in this trip.
Cancellation Policy
If you need to cancel, you can do so up to 24 hours before the event and get your money back in full.
You won't get a refund if you cancel the experience less than twenty-four hours before it's supposed to start.
We can't make any changes to your reservation if you let us know less than 24 hours before the experience is supposed to start.
The cut-off times are based on the local time when the experience takes place.