How can I apply for a Saudi visit visa from Dubai?
Last Updated: Saturday, 10/06/2023
1

Overview
If you want to visit Saudi Arabia from Dubai and are wondering how to apply for a Saudi visit visa from Dubai, continue reading this article for a detailed guide.
Whether you want to travel to Saudi Arabia from Dubai to see family, friends, tourism or business, here we have details on how to apply Saudi Aria bias from Dubai.
You will also learn the documents required when applying for a Saudi Arabia visa from Dubai and expatriates living in Dubai who qualify for a Saudi tourist e-Visa.
2

How to apply for a Saudi Arabia visa from Dubai for UAE passport holders

If you are a UAE passport holder, you don't need to apply for a Saudi Arabia visa if you travel for business or tourism purposes. However, if you want to travel from Dubai to Saudi Arabia for religious purposes, you must apply for a Hajj or Umrah visa/permit and be allowed to visit KSA for religious purposes.
3

How to apply for a Hajj or Saudi Arabia visa for Umrah from Dubai

The first step in getting a Hajj or Saudi Arabia visa for Umrah from Dubai is to contact a Hajj or Umrah trip operator, like Tourmate, who will apply for a visa on your behalf.

You can apply for an Umrah visa at any time. However, there is a limit on the number of Hajj pilgrims, so you must plan your trip.
4

Required documents to apply for hajj or Saudi Arabia visa for Umrah from Dubai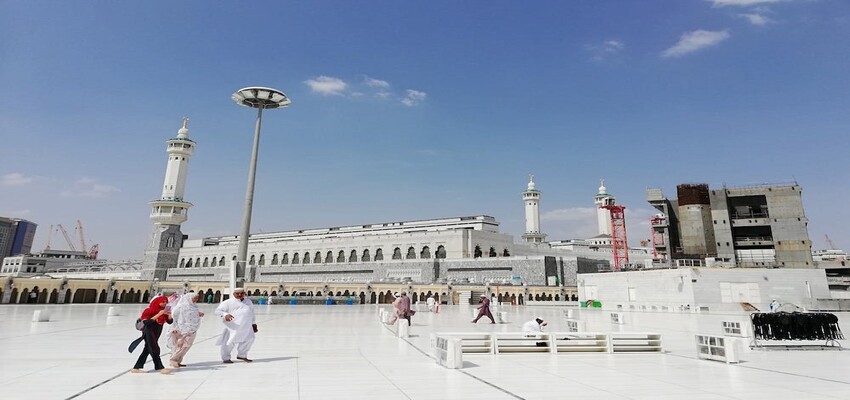 The following are lists of documents you are required to submit when applying for a hajj or Saudi Arabia visa for Umrah from Dubai :
Original and valid UAE passport at least 6 months
Your recent photo and background are white
Photocopy of the Emirates ID
Duly filled Saudi Arabia visa application form
Certificate of Meningococcal Meningitis vaccination
For employees, the following information must be provided: name, passport number, employment status, applicant's monthly income, and length of employment
If your name does not reflect your Islamic beliefs, a certificate from an Islamic centre or mosque proves your identity as a Muslim. Moreover, a formal declaration that the firm has approved leave of absence
Business owners send a copy of a legitimate trade license
Students and pupils give documentation of their enrollment in a school or university
5

Cost of hajj and Umrah packages for UAE nationals

The quality of the hotel determines the cost of the Hajj and Umrah package, the level of services provided, the mode of transportation chosen, the airline class, and the distance travelled to reach the Holy Mosque.
6

Validity of Saudi Umrah or Hajj visa

The Saudi Umrah or Hajj visa is valid for up to three months. Pilgrims will have unrestricted access to travel around the country.
7

When are Hajj Visas Issued ?

Hajj visas can be obtained beginning in the middle of the month of Shawwal and continuing until the 25th day of Dhu al-Qadah, which can be spelt Dhu al-Qidah or Zu al-Qadah.
8

Key things to remember
Residents of Dubai residents are permitted to enter Saudi Arabia by road as part of a group travelling with the tour operator
The tour operator is responsible for acquiring flight tickets and offering accommodation for pilgrims in residences licensed by the Ministry of Haj and the Civil Defence in KSA
9

Saudi E-visa and visa-on-arrival facility for ex-pats

If you are an expatriate working or living in Dubai and want to travel to Saudi Arabia, below is a list of 49 countries whose nationals can apply for a Saudi Arabia tourist e-visa.
1. Canada
2. USA
3. Andorra
4. Austria
5. Belgium
6. Bulgaria
7. Croatia
8. Cyprus
9. Czech Republic
10. Denmark
11. Estonia
12. Finland
13. France
14. Germany
15. Greece
16. Holland
17. Hungary
18. Iceland
19. Ireland
20. Italy
21. Latvia
22. Liechtenstein
23. Lithuania
24. Luxembourg
25. Malta
26. Monaco
27. Montenegro
28. Norway
29. Poland
30. Portugal
31. Romania
32. Russia
33. San Marino
34. Slovakia
35. Slovenia
36. Spain
37. Sweden
38. Switzerland
39. Ukraine
40. United Kingdom
41. Brunei
42. China
( Including Hong
Kong and Macau )
43. Japan
44. Kazakhstan
45. Malaysia
46. Singapore
47. South Korea
48. Australia
49. New Zealand
Note: Citizens of GCC countries can get e-visas, which is a big step toward attracting more tourists to Saudi Arabia. UAE Residents from Dubai or any other city can now apply for an e-visa instead of going to the VFS or the consulate to apply for a visa. Because of this, it doesn't take long to get a Saudi Arabian tourist visa in Dubai.
10

The process to apply for an e-visa from Dubai

Below are steps to follow and get to apply for Saudi Arabia E-visa from Dubai :
Send all required Documents to Tourmate visa assistance via email
Pay your visa Fee
Track your application
Visa ready notification
11

Cost of E-VISA

The Saudi Arabia E-visa from Dubai costs SAR 300 (AED 293). When you seek our assistance to apply for Saudi Arabia E-visa, you will pay a visa service charge of 600AED
12

How long will it take to issue the E-visa ?

E-visas are typically granted within twenty-four hours, but this time frame may change depending on the circumstances of each application.
13

FAQS
No, one's religion is not considered when applying for a tourist visa.
The Zayed bin Sultan Al Nahyan Charitable and Humanitarian Foundation, the Khalifa bin Zayed Al Nahyan Foundation, and the Abu Dhabi Rehabilitation Centre are just a few groups giving UAE citizens free Hajj tours.